With companies facing labor challenges and rising inflation across all industries, automation and robotics offer measurable relief, enabling increased productivity and a more efficient use of human capital. Two to three years ago, only about 5% of warehouses in the U.S. relied heavily on automation, a percentage that has not increased much to date. But with fewer available workers and increased costs, the business case for implementing these technologies to aid the available workforce has become all the more compelling.
Optimizing the Human Workforce
In non-automated facilities as large as one million square feet, 30% of a worker's time can be spent traveling from one area of the warehouse to another to perform assigned tasks. Cutting down on employee transit time can not only increase productivity and service levels, but also save money. Eliminating or minimizing travel time lets employees focus on more complex tasks, and represents a better utilization of human capital.
That's especially true for industries that rely on a high level of logistics velocity, such as retail, healthcare and high tech, where the value proposition of applying robotics and automation to logistics is often the most pronounced. In each of these industries, warehouse picking often involves collecting several items for packing and delivery to storefronts, hospitals and end users. Robots are capable of picking those individual pieces and bringing them to packing locations — what's known as a "goods-to-person" application. Team members complete the fulfillment from there. By combining robot and human labor, companies streamline their overall logistics strategy. 
In the same vein, robots sometimes follow human pickers to deliver picked items down the line, in both cases reducing employee travel time within the four walls of a warehouse. Studies have shown that either of these applications can provide an 80% to 100% improvement in employee productivity.
Automation Across Industries
For retailers, robots aided by information systems and other forms of automation can alleviate the challenges of moving goods through labor-short supply chains. Robots can offload containers at distribution centers, build and wrap pallets, place inventory on conveyors, and in the most advanced logistics centers, even place the pallets where they ultimately belong. On the outbound side, robotics and automation aid in the replenishment of inventories by building new multi-SKU pallets to accommodate individual store needs. 
The healthcare and high-tech industries face similar challenges. Hospital systems typically order supplies by the tens of thousands. But to save storage space, many healthcare facilities want that product sent in small, frequent shipments, often to individual wards or doctors, for use over a period of a few days. Highly automated warehouses using robots, pick towers and pick-to-light technology can keep those small quantities of necessary supplies flowing, while maximizing efficiencies and minimizing costs.
Fulfilling high-tech orders often involves assembling cartons based on "each-level" picks, meaning that different types of items are included in one parcel for shipment. For example, when a customer orders a printer, ink and paper, each of those must be picked and packed in a carton. Robots are often used to pick the items, while human employees scan, pack and ship them to the end user.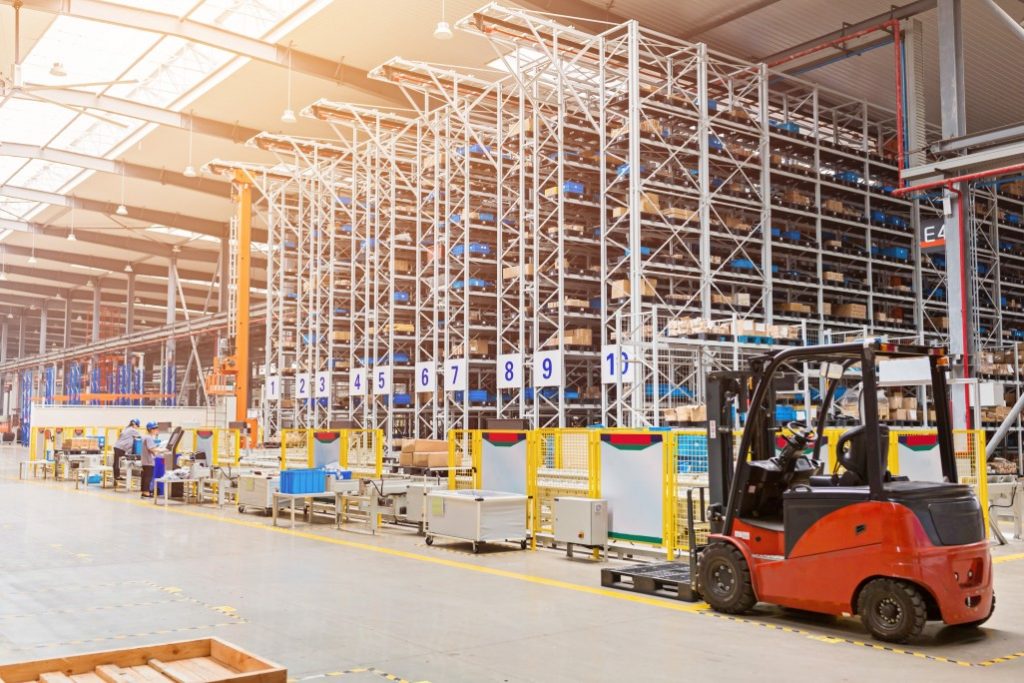 AI Transforms Scanning, Wearables and Warehouse Safety
The scanning piece is an important part of how automation promotes efficiencies in logistics operations. By scanning barcodes affixed to individual items, information systems keep track of what's coming in and going out of logistics centres. That data helps companies understand when they need to replenish inventory levels, providing them with unprecedented levels of visibility. By feeding the same data into artificial intelligence and business intelligence systems, companies can also track and predict demand and better understand customer purchasing intentions and trends. Acting on this intelligence, businesses are able to increase logistics velocity and streamline operations, while improving labour productivity, lowering costs and increasing profits.
Wearable technologies are also making their way into logistics operations. Smart glasses can automatically scan items when a worker looks at a barcode, assisting in inventory tracking and visibility. Other wearable applications improve communications among warehouse workers, management teams and technology platforms. By communicating the next task to be performed in real-time, workers don't need to trek back to a command centre to pick up new instructions.
Automation also adds safety benefits to warehousing operations. Drones can be used to perform inventory cycle counts in multi-level rack facilities, a task that would otherwise be performed manually by employees climbing the racks and visually counting products. Automation and robotics can also help ergonomically by minimizing activities that would require employees to lift and bend, reducing work-related injuries, both chronic and acute.
Some of the latest technologies target the transportation leg to and from logistics centres. By providing visibility to the location and progress of trucks in and out of warehouses, these systems are starting to sync up supply chains from end to end.
Automation and robotics require large investments of capital, so it's necessary to analyze each case for its value proposition and to understand that it might take five or six years to achieve investment payback. If done right, companies will see improved on-time performance, more efficient labour planning, speedier order-to-cash cycles and hefty productivity improvements. 
All of these considerations make a compelling business case for the benefits that automation and robotics can bring to logistics operations. While some workers experienced an initial hesitation, many now appreciate the reliability that robots provide: they never call in sick, and they always show up when and where they're needed.
Credit :
Steve Sensing is president of global supply chain solutions at Ryder.